What's new in Version 0.98.1
Secret Maryo Chronicles 0.98.1 has many new features ! Take a look :)
New Enemy
The new Enemy Thromp is a small Stone which tries to iron you.

Level Effects
New Level Effects for the whole level like falling leaves or rain.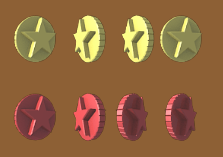 New Goldpiece Graphics
New Goldpiece with a smoother animation and new Graphics.
Maryo can Walk and Run
Maryo can now Run with the CTRL key which will also let him jump higher.
You can download the new version here.
The SMC-Team awaits your Feedback :)