What's new in Version 0.99.3
Secret Maryo Chronicles 0.99.3 has nice new Features ! Take a look :)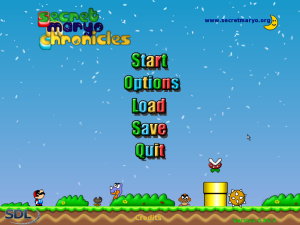 New Main Menu
The new Main Menu got a new ground image and Snowy Design.

New Enemies
The New Enemies Green Turtle and Spika will try to wheel you.
Spika is a big Spiky Ball who knows if you are nearby.
New World
New Overworld with mostly completely new Levels and Great Underground Challenges.
Big Thanks to Weirdnose :D

New Game Icon
The New Game Icon is now a big blue Mushroom with a colorful SMC Font.
You can download the new version here.

The SMC-Team awaits your Feedback, Levels or even new Sounds and Graphics :)